Update October 20, 2016: Not a "Jesus Tower" but a "Jesus Center", a place for the homeless, for pilgrimage, for
education etc. In fact, when you think about it, every Christian church should be a "Jesus Center"!
---
A dream - DV some day will come true
THE JESUS TOWER
EAST ASIA'S FIRST INTERNATIONAL CHRISTIAN PILGRIMAGE SITE
Europe has Assisi, Lourdes and Fatima. In the Middle East there is Israel, the Holy Land.
The Americas have Guadalupe. Each site attracts millions of pilgrims each year, including thousands of people from Asia.
Vietnam has the Basilica of Our Lady of Lavang. But East Asia has no international site for Christians to visit.
The JESUS TOWER will provide this facility.
Such a need is felt first of all by Asian people. As they visit overseas Christian sites, or as they visit local sites of other religions (e.g. The Big Buddha in Hong Kong) they often say: "Why haven't we got something like this in East Asia?
The JESUS TOWER will become an internationally recognizable symbol of its country, similar to the statue of Jesus overlooking Rio de Janeiro in Brazil.
The need for the JESUS TOWER is also felt by Asia's ailing tourist industry. Asia needs more places and features to attract tourists. It is no exaggeration to expect that the JESUS TOWER will attract millions of visitors and pilgrims to Asia
For Christians the JESUS TOWER will be a place where God is known and loved. A place of ecumenism promoting Christian unity (like the island of Iona, off Scotland). A place of understanding promoting dialogue with Asia's other religions. A place of education, promoting easy access to the history and life of Christianity.
POSSIBLE STRUCTURE: A TWELVE STORY FIGURE OF JESUS (OR A LARGE TAPESTRY ON ONE SIDE OF BUILDING)
In a plan that will appeal to Christian pilgrims, the JESUS TOWER will have twelve main stories, in honour of the twelve tribes and twelve apostles in the Bible. Each level will be large enough to accommodate up to 400 people. One proposal for these 12 stories is:
Level 12: Observatory & Cafeteria
Level 11: Theatre for plays & films
Level 10: Exhibition area
Level 9: Wedding Chapel
Level 8: Reception area for after weddings
Level 7: Anglican-Protestant Chapel
Level 6: Catholic Chapel
Level 5: Museum (c.f. Liverpool/Nagasaki museums)
Level 4: Conference area
Level 3: Religious goods/Library (computers rather than books..)
Level 2: Bookstore
Level 1: Children's area & canteen

Above Level 12 will be offices and store rooms. Below Level 1 will be a foyer level.
Each of Levels 1 to 9 will be enclosed in see-through glass. Between the enclosing glass and the outside walls on Levels 1 to 9 will be a wide walkway to allow visitors to inspect life-size stained glass windows which will occupy most of the wall space.
These spectacular stained glass windows will portray the world's greatest biblical and post-biblical Christian paintings, ancient and modern, Western and Asian.
Such a unique building will attract many thousands of visitors each day and night.
LOCATION: A LOVELY SITE BESIDE THE SEA, WITH MOUNTAINS IN THE BACKGROUND
Such a beautiful position will have excellent Fung Shui: mountains behind and sea in front. The surrounding sea will highlight the JESUS TOWER in the same way as the sea enhances the Statue of Liberty and the Sydney Opera House.
---
If the idea of the JESUS TOWER comes from the Good Lord, may someone, some group, somewhere, somehow, make this idea a reality. "What can be imagined, can be achieved!"

More ideas about the JESUS TOWER concept available from: jdwomi@gmail.com
---
Noah's Ark Hong Kong (c.f. 20-05-2001 Christian Theme Park to be built in Hong Kong!)
2009-11-07 Harmony Christian Park to be built in China
Photos of Jesus Statue, Rio de Janeiro Zhaoqing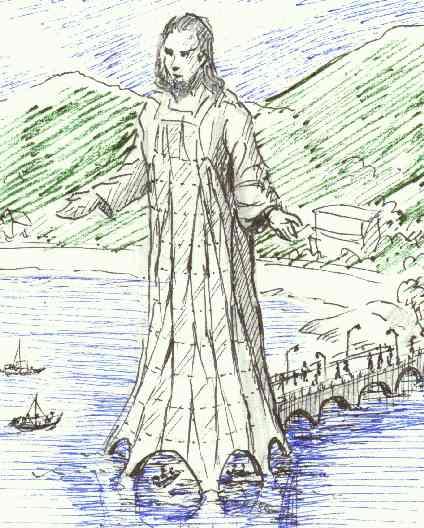 May the Good Lord Himself guide and protect all involved in the JESUS TOWER!
---